About Us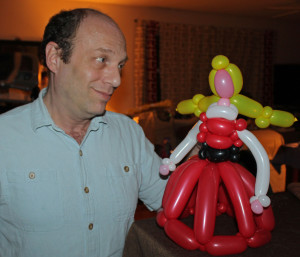 Although I started my adult life as a classically-trained actor (American Conservatory Theater; Carnegie-Mellon University; U. of Wisconsin-Madison), my career has taken several sharp lefts. From 1981-1986, I was half of a comedy duo, Mandel & McVeigh. We played at over 100 different venues, headlined at scores of comedy clubs all across the US and Canada, were frequent guests on Night Shift, and were the House Comedians at the Playboy Club in Chicago. Even back then, balloon twisting was a regular feature of our act.
The act ended in 1986; my comedy partner was pregnant with her first child and, back then, comedy clubs were hermetically sealed chambers of cigarette smoke. That was now an untenable environment in which we could work.
I turned to writing and designing comedic adventure games for computers. It was a new vehicle for my comedy, a way of staying onstage without spending half of my life on the road. Adventure games are where spent the last twenty-six years making a mark in a young new medium.
But my philosophy is that balloons are one of the fastest, easiest ways to put a smile on a face — far easier, far faster than creating and marketing a computer game. When a computer game has a bug, it can ruin the entire experience for the player and be costly and time-consuming to repair. But when a balloon pops…you just make another!
Moreover, I believe that teaching kids to make their own balloons is where the real magic happens. The art – and it is an exploding art (in more ways than one!)  – will only continue to thrive if kids "catch the bug" the way I did when I was 11. For me, there is nothing quite like teaching a roomful of kids to make their own animals, and see their creativity take flight. And personal instruction is absolutely the best way to learn.
This is why most of my balloon services center on balloon classes.
Think outside the bubble!
Josh Mandel, prop.
It's a Twister
January 2016